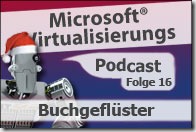 In diesem Podcast ist wieder viel drin! Zum einen spreche ich mit Jan Kappen über sein Buchprojekt. Jan schreibt gerade ein Hyper-V Buch, das sich bewusst an das SMB-Segment richtet. Zum anderen haben wir unsere Weihnachtsverlosung. Klasse Hauptpreis! Zusätzlich habe ich natürlich wieder Links auf Artikel und Videos und eine Menge Veranstaltungstipps.
Ich wünsche euch beim Zuhören viele Erkenntnisse und soviel Spaß, wie ich beim Zusammentragen der Infos hatte.
Shownotes:
Links, News und Videos (ab 1:00)
All 30 installments of the "Cloud on Your Terms" series von Tommy Gunn auf System Center Central
Hyper-V als VM in VMware betreiben von Nils Kaczenski auf faq-o-matic.net
TechNet Virtual Labs: System Center auf TechNet
Does your PC have what it takes to run Windows 8's Hyper-V? von Ed Boot auf zdnet
Hyper-V Quick Reference von Dimitri Koens auf dimensionit.tv
SCVMM2012: Adding a host from an untrusted domain or workgroup von Ronnie Isherwood auf seinem Blog virtualfat.com
Hyper-V Security Guide auf TechNet
Veeam Weihnachtsgeschenk, Backup & Replication v6 NFR Lizenz von Michel Lüscher auf seinem Server-Talk.eu Blog
Windows Server 8 Hyper-V and High Availability von David B. Cross auf Microsoft Server and Cloud Platform Blog
Video and Audio (ab 10:07)
TechNet Radio Community Corner: Microsoft MVP, Mitch Garvis talks Private Cloud auf Technet Radio von Jon Weston
Aufzeichnung des Microsoft System Center 2012 Virtual Summit
Aufzeichnung des Microsoft TechDay Private Cloud
SCDPM: DPM 2012: What goodies are coming von Mike Resseler auf TechNet Edge
Videointerview with Didier Van Hoye about CSV and Storage Design auf Hyper-V-Server.de
Interview zur Windows Server Lizenzierung in der Virtualisierung mit Dietmar Meng auf Hyper-V-Server.de
Videointerview about Virtual Machine Manager 2012 with Ronnie Isherwood auf Hyper-V-Server.de
Videointerview mit meinem MVP Lead Jan-Philipp Rombolotto auf Hyper-V-Server.de
Interview nir Jan Kappen (ab 16:33)
Hier findet Ihr mein Interview mit Jan Kappen über sein Buchprojekt. Wir plaudern Unteranderem warum ein Buch, über die Zielgruppe und was so cool ist an Windows 8. Ich freue mich schon, wenn es bei uns heißen wird "Fachbuch Autor an Board".
Weihnachtsverlosung (ab 27:36)
Unser Erster Hyper-V Powerkurs steht ins Haus. Und da habe ich mir zur Weihnachtszeit überlegt: "Warum nicht einen Platz hier im Podcast verlosen". Also wer vom 9.1. bis zum 13.1. 2012 noch nichts vorhat oder freimachen kann, der sollte unbedingt in den Podcast reingehören. Ihr erfahrt nämlich, wie Ihr an der Verlosung teilnehmen könnt.
Termine (ab 35:00)
Exam 70-659: Windows Server 2008 R2, Server Virtualization Jump Start am 11. Janaur und 15. Februar mit Simon Perriman and Philip Helsel
Hyper-V Powerkurs vom 9. bis 13. Januar in Hallenberg
TechNet Seminar: Private Cloud – Infrastruktur mit Microsoft am 10. Januar in München und am 12. Januar in Hamburg
NIC (Nordic Infrastructure Conference) vom 13. bis 14. Januar in Oslo / Norwegen
Hyper-V community event am 19. Januar in Amsterdam / Niederlande
TechDays Belgium vom 14. bis 16. Februar in Braine l'Alleud (Eigenbrakel) / Belgien
CeBIT 2012 vom 6. bis 10. März in Hannover
Microsoft Management Summit 2012 vom 16. bis 20. April in Las Vegas /USA
The Experts Conference 2012 US vom 29. April bis 2. Mai in San Diego / USA
E2E Virtualisation Conference vom 25. bis 27. Mai in Wien / Österreich
TechED Europe vom 25. Juni bis 29. Juni in Amsterdam / Niederlande