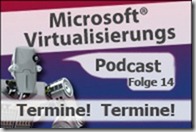 Oh Mann ist viel los. Seit dem letzten Podcast habe ich zwei Vorträge gehalten, war auf der Deutschen Partner Konferenz und auf dem Hyper-V Community Treffen in Hamburg. Darüber hinaus war ich auf der TECconf 2011 Konferenz in Frankfurt,  wir hatten ein Treffen mit Satya Nadella und ich war auf dem Microsoft Community Day in München. Es geht so weiter. Im Schwerpunktthema berichte ich von den Terminen und gebe eine Aussicht auf die kommenden Termine, wo ich sein werde. Außerdem gibt's wie immer die News und Links, sowie die Termine.
Ich wünsche euch beim Zuhören viel Geduld und soviel Spaß, wie ich beim Zusammentragen der Infos hatte.
Shownotes:
Links, News und Videos (ab 1:01)
DPM & VSS von Steve Buchanan auf seinem Blog
Whitepaper How to Build a Hyper-V Cluster Using the Microsoft iSCSI Software Target v3.3 von Aidan Finn
Active-Active File sharing with SMB 2.2 Scale Out in Windows 8 Rocks von Didier Van Hoye
Im Technet Magazine erschinen Virtualization: Build an IT Lab for Virtual Machines
Hyper-V 3.0: Was (wahrscheinlich) kommt, Teil 1 und Teil 2 von Nils Kaczenski auf faq-o-matic.net
SCVMM 2012 : Ports commnications for Firewall Configuration von Alessandro Cardoso auf seinem Virtualisation & Management Blog
TechNet Download Seite zu  Microsoft System Center 2012 Pre-Release Products
Monitoring a Hyper-V environment – Part 1 von Peter Noorderijk auf hyper-v.nu
Boot from VHDX auf Lai Yoong Seng
Video (ab 8:22)
Webcast How to Build a Private Cloud (Part1), Part2, Part3 und Part4 von Chris Henley
TechDay@ice2011 Videomitschnitte auf TechNet Edge
SCVMM 2012: Deployment, Planning, Upgrade von Alessandro Cardoso auf Tech·Ed Australia 2011
Videointerview mit Didier Van Hoye zu Hyper-V und 10GBit
Schwerpunkt Thema Termine! Termine! (ab 12:20)
Mein Vortrag zu Hyper-V R3 vom zweiten Hyper-V-Community
Rückblick auf The Experts Conferenz in Frankfurt mit meinem Vortrag als PowerPoint
Privat Cloud Community Treffen mit Satya Nadella
Microsoft Community Days 2011
Microsoft TechDay "Von der Servervirtualiserung bis zur Private Cloud"
Termine (ab 22:12)
Exam 70-659: Windows Server 2008 R2, Server Virtualization Jump Start am 2. November und 1. Dezember mit Simon Perriman
System Center Day am 3. November in Vilvoorde Belgien
Microsoft TechDay "Von der Servervirtualiserung bis zur Private Cloud" am 14.11. Karlsruhe, 16.11. Frankfurt, 22.11. Düsseldorf, 24.11. Hamburg, 29.11. Podsdam und 1.12. München
TechNet Seminar: Private Cloud – Infrastruktur mit Microsoft am 15. November in Köln, am 10. Januar in München und am 12. Januar in Hamburg
E2E 2011 London vom 18. – 20. November in London
NIC (Nordic Infrastructure Conference) vom 13. bis 14. Januar in Oslo
Hyper-V Powerkurs vom 9. bis 13. Januar in Hallenberg
Hyper-V community event am 19. Januar in Amsterdam
TechDays Belgium vom 14. bis 16. Februar in ?
CeBIT 2012 vom 6. bis 10. März in Hanover