Microsoft Virtualisierungs Podcast Folge 10 – MVP Virtual Machine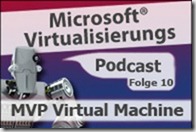 In letzter Zeit bin ich ja nicht mehr so begeistert wie früher, wenn eine neue Mail in meinem Postfach auftaucht. Aber diese eine Mail mit dem Absender support(at)mvpaward.com schlug bei mir ein wie eine Bombe (ich muss auch sagen es hat mich nicht auf dem Stuhl gehalten). Für mich sind die Microsoft MVPs immer ein Vorbild gewesen, zu denen ich aufgeschaut habe. Da könnt Ihr euch vorstellen wie glücklich ich bin jetzt dazu Zugehöhren. In dieser Folge gibt es von meiner MVP-Geschichte einiges zu hören, aber auch wieder Links und News, zur Feier des Tages eine neue Verlosung mit drei Preisen und die Veranstaltungstipps. Ich wünsch euch wie immer viel Spaß beim Anhören.
ShowNotes:
Links, News und Videos (ab 0:59)
May and June – Monthly overview new released KB articles von Maarten Wijsman auf Hyper-V.nu
Enable Sleep / Hibernate with Hyper-V von Mark Harison
Windows Thin PC on Hyper-V von Rob McShinsky auf http://virtuallyaware.wordpress.com/
30 Ways to Improve Hyper-V Virtualization von Hovhannes Avoyan auf sys-con Media
VMM 2012 Survival Guide von TWooley auf TechNet
Microsoft Virtualisierung – die wichtigsten Szenarien auf TechNet
Hyper-V : Network Design, Configuration and Prioritization : Guidance von Alessandro Cardoso auf Virtualisation & Management Blog
Windows Server 2008 R2: Failover Clustering Troubleshooting Scenarios von John Marlin auf TechNet
Video (ab 6:59)
Virtual Machine Manager 2012- Technical Overview von Best of MMS Belgium 2011 auf TechNet Edge
Microsoft Private Cloud Security Overview von Nick Torkington auf TechNet Edge
TechNet Radio: IT Time- Debunking Myths around Virtualization and the Cloud mit Edwin Yuen auf TechNet Radio
Bericht von dem ersten Hyper-V Community Treffen (ab 9:01)
Schwerpunktthema MVP Virtual Machine (ab 10:53)
Für mich ist ein IT-Traum wahr geworden. Was ist ein MVP und wie wird man das. Ich spreche hier über meinen Weg dorthin.
Hier findet Ihr noch einige Links zu mir wichtigen MVP Kollegen und deren Blogs: Kristian Nese (MVP SCVMM), James van der Berg (MVP SCVMM), Aidan Finn (MVP Virtual Machine), Hans Vredevoort (MVP Cluster), Leandro Carvalho (MVP Virtual Machine) und Rob McShinsky (MVP Virtual Machine).
Gewinnspiel (ab18:29)
Verlosung einer "Windows 7 Ultimate NFR DVD", des Buchs "Windows Server 2008 R2 – Das Handbuch" und der TechNet "Virtualisierungs-Starter Kit DVD". Teilnamebedingungen: Retweet des Podcasts mit dem Tag #hypervpod oder Bewertung des Podcasts auf iTunes oder ihr erwähnt den Podcast auf Facebook oder auf einem Blog und mailt mir den Link an hyper-v(at)rachfahl.de zu.
Termine (ab 21:05)
Failover Clustering & Hyper-V: Planning your Highly-Available Virtualization Environment am 14. Juli. Online
\\ice:2011 – Intelligent Communities for Europe am 20.8. in Lingen / Ems
IT Admin Tech Talk 2011 am 20. und 21. September in Frankfurt/Main
Microsoft Technical Server Summit & Dynamics Airlift vom 21. bis 22. September in München
Treffen der Hyper-V Community am 28. September in Hannover
iX Serminar "Hyper-V sicher und Sauber" am 28.9. in Köln
The Experts Conferenz Europe TECConf vom 17. bis 19. Oktober in Frankfurt/MAin
E2E 2011 London vom 18. – 20. November in London